Introduction
Whether you are a newcomer in the trading market or have hands-on experience, AnalystQ is the perfect platform for you to partner with to start trading and master it. It offers traders the opportunity to trade different instruments like currency options, commodities, futures, cryptocurrency, precious metals, and forex.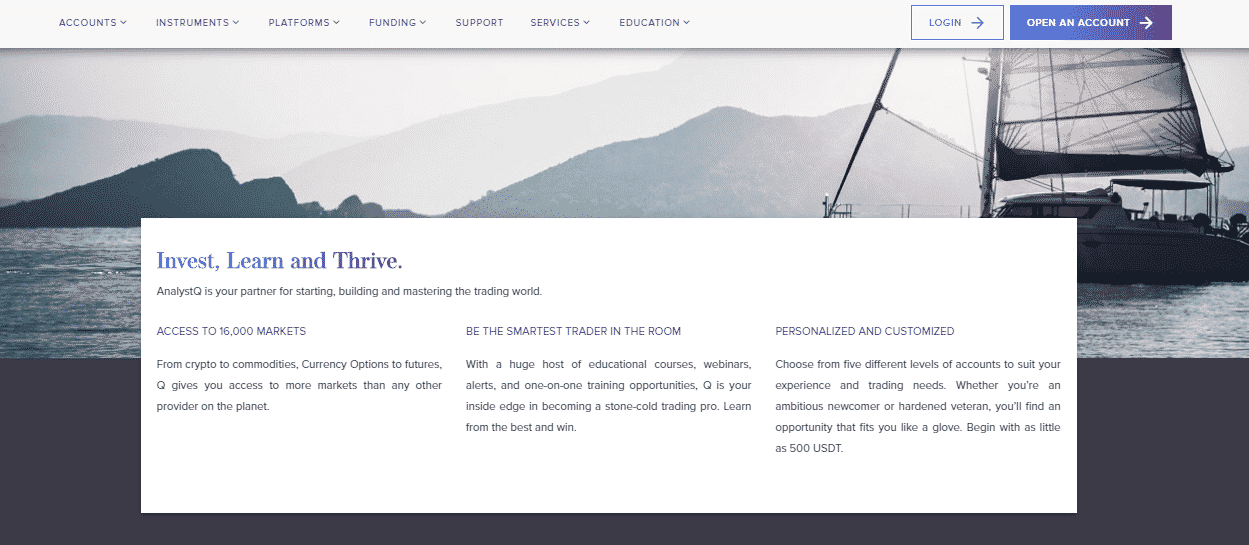 AnalystQ Reviews – Best Trading Platform
AnalystQ is well-known to offer a range of educational courses, alerts, and webinars for every kind of trader. To make you successful in the trading world, AnalystQ has many trading opportunities, personalized coaching services, and intuitive tools. No matter which device you have or how much experience you have, AnalystQ can help you build your portfolio. This AnalystQ review is going to provide you a glimpse of everything that the platform has to offer.
Trading Accounts:
AnalystQ has 3 different types of accounts on offer. Each of them comes with unique features. You can choose one according to your trading needs and your experience level.
1) Primary Accounts
Primary accounts at AnalystQ are the best types for beginners. Primary accounts are available in 3 tiers that include the Standard Account, the Education Account, and the Specialty Account. A Standard Account can be opened with a minimum deposit of $500. It comes with updated tips from the experts to help the traders trade smartly and lets them trade multiple assets.
Both the education and specialty accounts come with multiple tradable assets, the latest tips from the specialists, access to the MetaTrader 5 platform, and access to their webinar library that can help you become a successful trader. Another benefit of the specialty account that you don't get with a standard or education account is that you will get live support 24/7, which you can access whenever you want. To open an education account at AnalystQ, you will have to make a minimum deposit of $5000, and to open a specialty account at AnalystQ, a minimum deposit of $25000 will be needed

AnalystQ Reviews – Primary Accounts
2) Professional Accounts
If you are a professional trader and want to go for higher-level trading, then Professional Account offered by AnalystQ is for you. You will not only be able to trader smarter with the help of expert tips, but you will be able to trade on 300:1 leverage and tightest possible spread with Professional Accounts. The Professional Account members will also get exclusive invitations to their VIP events and can even get trading signals directly on their phone via WhatsApp or SMS.
The two tiers of Professional Account are MarginQ Account and Platinum Account. MarginQ Account is best for those looking for personalized services. Traders who opt for MarginQ Accounts. Get access to their MT5 platform, elite webinar library, and unlimited phone support. They can also get 3 personalized sessions/week with AnalystQ analysts of live trade reviews along with a direct line to Q's trading room. The minimum deposit for the MarginQ account is $75,000.
The Platinum Account is AnalystQ top-tier account that comes with the best perks and rates. Along with all the features that comes with its MarginQ account, the Platinum Account also offers better spreads to its users that are nearly 5% lower along with exclusive VIP events invitations. The minimum deposit required for Platinum Account is $1,50,000.
3) AutomatiQ Accounts
If you want to trade in the automated mode, then this AnalystQ account is for you. While writing this AnalystQ review, I found that even a newbie like me can start trading using this account as it lets you place trades by running the newest automated trading strategies. Experienced traders and strategy creators from all over the world run their different strategies on the AnalystQ platform. So, if you want to place trades using this account, you will first need to fund your account, then choose a strategy with an expert analyst, and you are good to go.
Instruments that can be traded on AnalystQ:
With AnalystQ, you can trade various instruments, including cryptocurrency, currency options, precious metals, and energy commodities.
Cryptocurrencies: Cryptocurrency has become one of the most widely traded instruments in the market currently. AnalystQ lets you trade them even if you don't own them. Using the high-quality services and matchless learning tools offered by AnalystQ, you are sure to make huge profits.
Currency Options: Currency Options are one of the most preferred markets. AnalystQ has something for every hungry currency options trader. It enables 24-hours trading with the best pricing from various pips, different maturity ranges as per trader's preferences, and quick access from all types of devices.
Energy Commodities: Energy Commodities consist of both renewables and non-renewables. AnalystQ has a simple-to-use energy commodities trading platform that offers many options for trading energy commodities. With Q's risk management tools and 24/7 available world-class customer services, trading energy commodities has been made simple.
Precious Metals: The trading of Precious Metals is well-liked and a favorite of many for years. AnalystQ lets you trade Precious Metals like Platinum, Palladium, Silver, and Gold 24/7.
Soft Commodities: Soft Commodities don't move out of demand ever. When traded smartly, soft commodities can offer you big profits. If you want to earn profits even when your chosen asset loses its value, you should trade with AnalystQ.
Education:
1) Educational Courses: Whether you are an experienced trader or a beginner who wants to start from scratch, AnalystQ can help you develop the knowledge and skills needed for trading efficiently. You can choose an education course based on your experience level. The different trading courses at the AnalystQ platform include topics like Trading Strategies, Market Trends, Stocks, Commodity Trading, Indices, and more!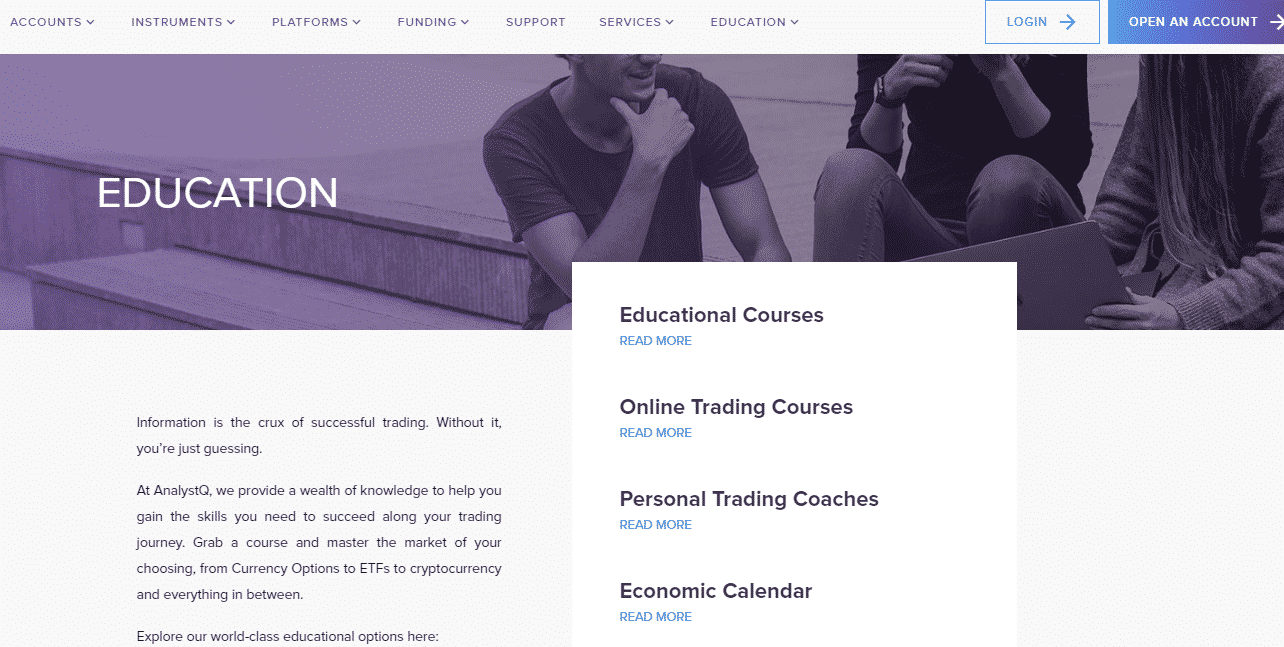 AnalystQ Reviews – Education
2) Online Trading Courses: The online trading courses offered by AnalystQ are best for those who don't have enough time for a full-blown trading course. With these courses, you can get the required information promptly. These courses include trading strategies for every trading stream like commodities, stocks, currency options, etc, 1-click access to virtual learning, and detailed webinars.
3) Personal Trading Coaches: If you are looking for a one-on-one coach, you can get one with AnalystQ. You will be able to make informed decisions with the help of insights offered by these veteran coaches. The personal trading coaches will help you flourish in the trading markets.
Platforms that are compatible with AnalystQ:
Android Trading app Platform: Android devices are widely used all around the world these days. So, AnalystQ has an Android Trading app to make the platform available for Android users who want to trade on the go. It gives you access to real-time data, offers push notifications, and even tracks your trades. With the app, you also get 24/7 access to their support team.
iPhone Trading App Platform: iPhones are a well-liked device and used widely. Now you can trade from anywhere and anytime using the AnalystQ iPhone trading app if you are an iPhone user. You are never going to miss a good trading opportunity. The app is simple to understand and quick to use.
MetaTrader 5 platform: MT5 platform is created to execute trades and perform technical analysis on different markets. AnalystQ MetaTrader 5 platform comes with many advantages. It comes with copy trading features, trading robots, and technical indicators. You can use the AnalystQ MT5 platform on any browser or device.
Tablet Trading App Platform: Now you can trade using your tablet device as well. Get live rates and market data in real-time. Make informed trading decisions with the latest market conditions. Get access to their support team whenever required with the Tablet App.
Web Trader Platform: Access the web trader platform of AnalystQ from any device. The web trader platform lets you view as well as track the trending assets, access historical data of the assets, evaluate trends of different financial instruments, compare different assets, and a lot more.
Crypto Funding Basics
Cryptocurrency funding can be the game-changer in the trading world. AnalystQ offers Leveraged Crypto funding. The funding by AnalystQ offers stability in the volatility of the cryptocurrency markets.
Margin and leveraged Loans
Margin loans let you borrow against the securities value that you own already. You can gain access to different funds using a margin loan. Enjoy a margin loan at a low-interest rate from AnalystQ without any annual fees, closing costs, and set up fees.
Another great option for people looking to get capital is a leveraged loan offered by AnalystQ. It is best for those having a bad credit history or a considerable amount of debt.
Services that AnalystQ offers:
Dedicated Sales Trader: If you want to trade actively in a market, taking help from the sales traders of AnalystQ can be beneficial. They can explain to you the basics of trading at AnalystQ like market volatility, crypto funding, and more in the simplest possible way.
In-House Analyst: The in-house analyst at AnalystQ are available readily to increase your possibilities of success without research and stress. They can help you predict market fluctuations and get masterful insights.
Personal Relationship Managers: Get one-on-one assistance from AnalystQ experts. Save yourself from losing your hard-earned money. A relationship manager at Q is available via chat, email, phone, or in-person meeting.
Personal Trading Courses: Get knowledge reserved from seasoned trainers without years of study with AnalystQ.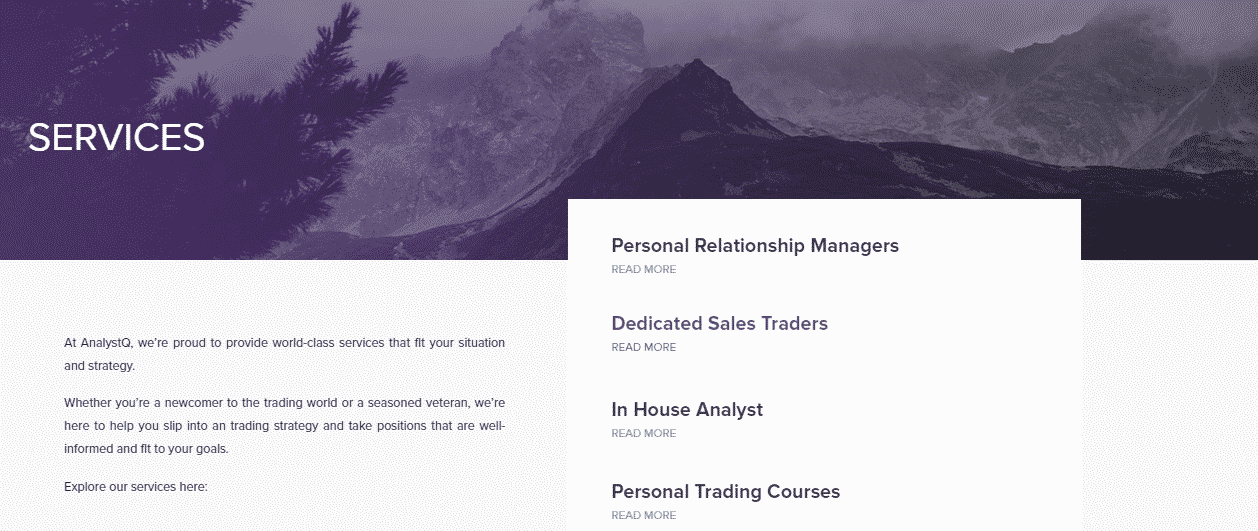 AnalystQ Reviews – Services
Support:
AnalystQ is available 24/7 with its customer support to help you when you need it. If you have any questions or concerns, you can reach them by any of the below-mentioned ways:
Email Support: For any issues you are facing with Q or any errors or doubts, you can easily reach AnalystQ through its email support. They have provided 4 different email addresses for contacting them for support, trading desk, analyst desk, and compliance.
Whatsapp Support: With a wide user base, WhatsApp is one of the best messengers at present as it can be used on both mobile and desktop devices. You can get all the services offered by AnalystQ on WhatsApp.
Telegram Support: Another great support channel offered by AnalystQ is Telegram support. AnalystQ is the first trading broker to include Telegram in its support channel. You can even submit your KYC documents via Telegram on Q.
Phone Support: The AnalystQ review found that it offers phone support to nearly every country. If you want to speak to a live AnalystQ representative, then you can use their phone support. Just enter your country from their list and call them using their number. The phone support representatives are fast and friendly and can resolve all your issues and answer all your queries.
Conclusion
From the extensive AnalystQ reviews, the AnalystQ platform outshines at investment and trading services. It serves investors and traders from around the world with profitable and exclusive trading opportunities. Except for offering trading opportunities in the different markets, the AnalystQ platform also offers margin and leverage loans at affordable interest rates. With its different educational courses, in-house analysts, personal managers, and personal trading coaches, even a new trader can start trading and make huge profits in the different markets. Hope this AnalystQ review cleared all your questions and queries about the platform.
FAQs
1. What Can I Trade With AnalystQ?
Ans. AnalystQ lets traders trade different instruments like currency options, commodities, futures, cryptocurrency, precious metals, and forex. It offers more than 16000 assets to trade.
2. Is AnalystQ a scam?
Ans. No, AnalystQ is a legit and reliable platform. It has established itself as one of the best online trading platforms for both new and veteran traders.
3. How Can I access AnalystQ platform?
Ans. AnalystQ can be accessed using different browsers and devices. It has a MetaTrader5 platform, Web Trader Platform, Tablet Trading App, iPhone Trading App, and Android Trading App. You can choose any one of them to trade with AnalystQ.